In early April, I spent a lovely 10 days with my daughter Jen and her husband Tim in Oxford and Paris. Jen, founder and CEO of Code for America, was invited back to the Skoll World Forum in Oxford (she won an award last year; this year Nancy Lublin was honored for founding Crisis Text: brava, Nancy!) While Jen was busy with Forum activities, Tim and I explored the colleges, museums, and parks of Oxford. We took a day trip to Bath, where we toured the Roman baths, the cathedral, and the famous Pump Room. On to Paris via the Eurostar train through the Chunnel (sure beats the boat!). Jen and Tim left for California early Monday morning, but I had given myself an extra day in Paris. That night I watched Notre Dame burn from my 6th floor hotel room at 1, Quai St. Michel – an experience I will never forget and wish had never happened. I joined the throngs of Parisians Tuesday morning who lined the banks of the Seine and marveled at what had survived as we mourned what had been lost. Very kind locals who were able to comprehend some of my rudimentary French helped me navigate my way to Orly for my flight home, after I discovered the St. Michel AND the Chatelet RER C stations were closed. Quite an adventure!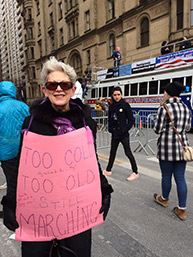 Good genes help – see below in the right of the photo my 94-year-old Dad. He just hand-built an oak cradle for my niece's baby, due any day. This is just some of the family in Tulsa; my daughter and granddaughter who live 2 hours away in Arkansas (kneeling on the floor below my dad) had brought me back from their house, where I spent a day with them and my grandson (not pictured). My younger daughter and her family were with other relatives in Colorado, but I got to see both my sisters and their kids and grandkids too.

Glad to be back in NYC for the New Year, and to keep in touch with clients whom I can help. Always available by text, phone (917-686-5309) or email (

[email protected]

). Stay in touch!



About CBS
CBS Midwifery was established in 1982. The last delivery was the 3,711th, on May 16, 2018.
Request for Medical Records
Click here to download PDF for information on how to get a copy of your records sent.