What a perfectly wonderful family vacation in March! Thanks to all my patients who waited until I got back to give birth, and thanks to Midwifery of Manhattan for covering for me while I was away.

My sister, Daphne, flew in from Chicago on Wednesday night, 3/12; my older daughter Amy and her kids Kendall (17) and Kieran (14) arrived Thursday night from Oklahoma. My youngest granddaughter Clementine (10) got in to JFK on Friday afternoon, and her mother Jennifer (my younger daughter) handed her off to us a couple of hours before our flight to Paris.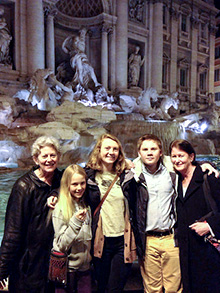 The 6 of us were well-accommodated in our Paris apartment at 55 Rue St. Antoine, from which we explored the City of Light. The grandkids climbed to the 2nd level of the Eiffel Tower at night (my sister and I took the bus home – we were too tired after walking the city all day) but Amy got them up, down, and safely back to Rue St. Antoine. St. Chapelle; the Louvre; the Luxembourg Gardens on Sunday afternoon – we enjoyed these as well as many other sites before taking the overnight sleeper-car train to Rome on Tuesday night.
Our Rome apartment was very near the Campo di Fiori, another super-comfortable place for us. Amy would get up early every morning and get our breakfast from the forno (bakery) and the market at the Campo. We ate so very well there – we had gelato twice a day, it was so delicious! The grandkids were fascinated by the ruins, and again, we walked all over.
We left New York in winter, and found spring in Europe. Paris was a little chilly, but the trees were in flower and the pansies were blooming. In Rome, it was sunny and warm – spring in full force. It was hard to come home, but we all have great memories of our time together.
---