I had a wonderful week at a chateau in the countryside near Lautrec (9/18-23) with 9 other friends of Catherine Carr, to celebrate her birthday. Catherine & I met in nursing school, then became midwives & dear friends.
Mornings at the Chateau D'Aragon began with a trip into the village for fresh croissants & pain aux raisins or citron. Then over our coffee or tea & pastries we'd decide who was going where with whom. I saw some of Toulouse, Castres, Carcassone, & Albi, & hiked "The Crests" tour around Lautrec. Each evening we had a fabulous dinner cooked by Cousin John, one of the party who's a professional chef from San Francisco.
The actual birthday celebration featured a chocolate mousse cake from the local patisserie & the surprise announcement to Catherine that we had established a scholarship in her name through the American College of Nurse Midwives.
Many thanks to Nicole for taking good care of all our clients while I was having such a great time!

Catherine and Barbara hiking around Lautrec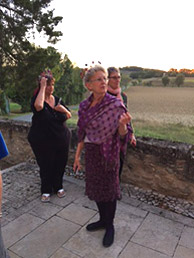 We made crowns out of sparkly pipe cleaners for the party – here's my royal look!