"
Nicole Marshall and Barbara Sellars are absolutely amazing. Anyone looking for an empowering birth experience will find ideal caregivers with CBS Midwifery. All throughout prenatal care, they were attentive and supportive of me and also included my husband in every appointment as we got to hear the baby's heart beat and talk about our hopes for labor and delivery. Even when I experienced some painful complications and a visit to the ER, Barbara was on the phone with me many times throughout the day and consulted with me on every test and procedure. Although it was frightening for me, Barbara conveyed her calm and confidence which are contagious.
But it was during labor and delivery that their experience and approach made all the difference. Even two months later, I'm still in awe. It was their talent and expertise that allowed us to have the kind of delivery we wanted.
Despite a very long labor of over 24 hours as well as bad back labor and an OP presentation, Nicole Marshall was there with us every moment. Nicole was on the phone with us in early the evening when active contractions started, met us at the hospital at midnight, then waited while we were sent home for a few more hours and was in constant contact throughout the night. Once we were admitted to the birthing center the following morning, Nicole calmly guided our labor and truly collaborated with us on all decisions. I was quite fearful of any and all interventions (even as simple as an IV) but Nicole was always supportive and clearly explained why each step was necessary. She then coached me through a very difficult delivery. Nicole remained by our side even when Barbara arrived to relieve her the following night. Together they delivered our baby girl vaginally with no tearing, no complications and the joyful arrival of our perfect, healthy and happy baby! Thank you Nicole and Barbara!!!
"
After many years of trying to get pregnant, and one early-term miscarriage, my husband and I were thrilled when we finally conceived. I knew that I wanted as natural of a pregnancy and birth as possible and I wanted a midwife to help us make that possible. From my first communication with Barbara, I knew she would be the woman to see us through this experience. She was (and still is!) always available to answer questions and concerns (and responds very quickly) – and does so with a sense of humor and in a manner that can put even the most worried minds at ease.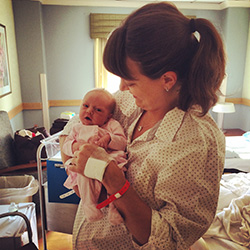 When it came to delivery and our birth, I quickly realized that there is no such thing as a birth plan! I had already timed out of the birthing center, as my daughter was 9 days late. However, once the contractions started, Barbara was immediately available, helpful, informative and very calming. She encouraged me, made me feel confident and calm, even through the strongest contractions. As my labor got more intense, it became clear that things were not progressing as they should be – I remained at 2cm dilated even after a full 24hrs of labor, many of which involved intense and heavy contractions. At one point, my dilation actually decreased and my effacement was going backwards!
There were several scary moments of our daughter's heart rate drastically plummeting. When these frightening incidences occurred, Barbara was my calming focal point. She reacted and acted rationally and calmly, moving me as required to get her heart rate back to normal, all the while directing the wonderful nurses and doctors that were immediately on hand. I was terrified, but was able to look at Barbara and I knew that she wouldn't let anything bad happen to me or my baby.
Throughout these hours, Barbara calmly and thoroughly explained our options. Eventually it became clear that I was not going to progress further, and the baby had to come out. Barbara helped my husband and I realize (and understand) that a cesarean was not only our best option – but our only option – for delivering a healthy baby. I was immediately flooded with emotions and tears. Had I failed? Had I not tried hard enough? How did I end up with a 'birth story' that was the exact opposite of what I'd aimed for? Before I could even voice these thoughts, Barbara looked directly at me and said, "You did not fail. You are doing wonderfully. This is why scientific advancement is good, we are going to make sure that you are both healthy and okay.
Barbara then meticulously explained, step by step, what would happen if/when her heart rate plummeted again and I was brought in for an emergency c-section. Every detail – from where my husband would be, where she would be, how I would be positioned, every sound I would hear and sensation I would feel – to the extent that when it did happen, I was able to remain calm by focusing on each subsequent detail.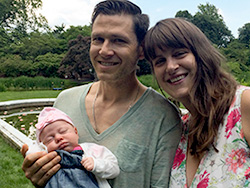 Barbara held my hand as they took my daughter out of me, she laughed with me when I started crying (and laughing) when I heard her for the first time, she directed my stunned husband to where our baby was so he could meet her and cut her cord, she took the first photos of her and brought them to me so I could see her and she brought her to me so I could see and smell and kiss her for the first time.
My beautiful and funny and amazing daughter's cord was wrapped around her belly, preventing her from descending at all – it was also wrapped around the top of her head which caused her heart rate to plummet so dramatically. Without a cesarean, she would not be here with us. And, thanks to Barbara, what would have otherwise been a terrifying and highly traumatic event is a happy and even satisfying life experience. This is the reality that makes my 'opposite of natural' birth story a happy one – because we have our healthy little girl. In the days and weeks since her birth, I've constantly felt as if Barbara should be with us, witnessing each moment along with us – because she is truly part of our family now. If we are fortunate enough to have baby #2 (or #3!), and even if a cesarean is the manner in which our new addition must join the world, I will insist on having Barbara by our side.
Maggie
"
My husband was not at all sure he wanted us to use a midwife for the birth of our child but I was convinced a midwife was the way to go. He was convinced once he met Barbara.
What can I say to possibly explain how wonderful my birth experience was with Barbara? Throughout my pregnancy my husband and I were so impressed with the little things- on time appointments with no waiting, time to talk during every appointment and Barbara's willingness to answer any questions and never rush to get to the next patient. We were awed when Barbara gave us her personal cell phone number during our first appointment so we could call her at any time throughout the pregnancy.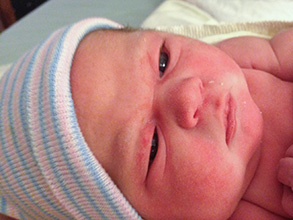 When the time came and I went into labor we called Barbara as soon as the contractions were regular. When we arrived at the hospital Barbara was waiting outside with a wheelchair for me- she met us at the car, pushed me up that sidewalk and into the building and was with us every moment from then on. She watched, she offered advice on positions to try, she told me what a great job I was doing and that I could do this when I was unsure, and when it was needed she got serious and tough with me- she guided me through pushing when I was unsure what to do, and so tired I didn't know if I could make it, and most importantly she looked me in the eye and told me "reach down and pull out your baby" and helped me to deliver my sweet baby girl as she announced to all "welcome to the world Frances!"
Barbara encouraged, supported, and when needed prodded me and allowed me to have the birth experience I desired- surrounded by her dad, Nannie, and Pa Baby Frances entered the world unmedicated, bright eyed, and alert as I pulled her onto my chest and we lay skin to skin. I could not have asked for any more. I hope and pray God will bless us with another baby someday and that Barbara will once again be with us through our journey.
Ann M.
"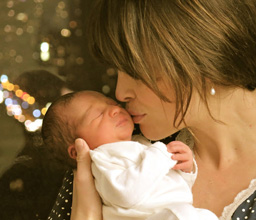 I had a phenomenal experience with Barbara Sellars. After putting in a lot of time and effort into finding out about every possible choice of care that would lead to delivery at Mt. Sinai West, formerly known as Mt. Sinai Roosevelt or St. Luke's-Roosevelt Hospital Center, I went with Barbara due to her modern, no fuss, common sense approach to pregnancy care. The fact that you can also text her questions at 7am (instead of Googling) if anything seems off also made the whole journey completely no-stress. What also brought me great comfort was that I knew Barbara would be the one delivering my son.
My son ended up arriving a month early as a big surprise, and even though that closed me out of the birthing center, the delivery was otherwise everything I had aimed for – and Barbara supported me through a great, non-medical, all-natural experience. She is also the chicest midwife you will ever meet, adding to the fact that with her, pregnancy and delivery doesn't seem like an out-of-your-control medical experience, but a beautiful, empowering experience throughout. I can't wait to work with her when we are ready to have our second.
Annabella